They say about us
Article published on "Valleylife", archive, n.39
Corte degli Armonici
by Simone Bandini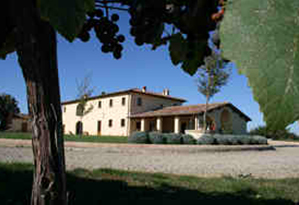 The Corte degli Armonici is a new bed and breakfast resort in Montagnano, halfway between Monte San Savino and Castiglion Fiorentino. It is a sanctuary for rest and relaxation in the Valdichiana countryside, amongst farmers' fields, hills and medieval villages. Owner Ludovica Benedetti's aim is to bring the centuries-old rural home back to life with the aid of modern technologies. Benefiting from renewable energy and bio-construction, this space is perfect for tending to the spirit and being inspired by various eastern disciplines.
Overtone chanting or harmonic singing is spreading through the Valdichiana thanks to the dedication of Ludovica Benedetti Nani Mocenigo, teacher of literature and new resident of Montagnano in the commune of Monte San Savino. But what is it all about?
Harmonics or overtones are but multiples of the fundamental pitch. The perception, hearing and reproduction of these sounds can lead to a profound sense of fulfilment and support in terms of connecting man to the forces of nature and the spirit. The practice of harmonics is a branch of yoga, traditionally used in shamanistic ceremonies and Tibetan Tantric chants.
At the Corte degli Armonici, one has the sense of listening to an imperceptible and subtle chant that emanates from the surrounding nature, between human activity and the breath of an ancient valley. In the words of Signora Benedetti, "I have been following a path of personal and spiritual growth for some time. I've practiced various disciplines such as yoga and healing, and when I saw this house I fell in love. I felt it would be the perfect space with the right energy for me to continue along my journey and perhaps share it with others. At that time I was practicing the overtone chanting from where it got its name."
The central location of the rural complex is key. At the top of a fading range of fields, villas and farmhouses, the villages of Civitella and Castiglion Fiorentino rise up like sentinels. Their imposing walls redden in the sunset when the sun melts into the obscurity of the Tyrrhenian. "I am from Parma," Ludovica continues, "but the concentration of smog that afflicts the Padana Plain convinced me to search for a better, healthier place where I could live my life. Here in the Valdichiana I found the right balance between traditions and modernity, between rural wisdom and new technology. A secondary factor is the proximity of the house to major regional centres where I can take part in city life, enjoy shows, art exhibitions and antiques fairs. It's a short distance to nature sanctuaries like the Casentinesi Forest and Lake Trasimeno and spiritual resources like the Franciscan centres at La Verna, Le Celle di Cortona or Assisi."
This choice of life, based on the desire for renewal, centrality and better balance, has a decisive quality, which is important in terms of the roots of the region and the architectural value of the house. "The Corte degli Armonici was a rural house built in 1750, when the Valdichiana was reclaimed which had already been proposed by Leonardo da Vinci. Its position, in the middle of farmland and bordered by Cortona's buttresses and the hills of Monte San Savino, is a point of great importance in relation to the environmental factors of the region. Acquiring this property became fact thanks to the appeal of its materials such as the handmade bricks made from the clay of the reclaimed swamps and fired in the nearby local kiln. The people in the country know the secrets of living according to nature, using one of its primary elements masterfully: the land. During my search for the ideal house, I was totally enchanted by the positive energy of this compound."
The restoration proved to be a difficult and onerous adventure, but Signora Benedetti has very clear ideas about what she wants. "The house was renovated according to eco-friendly building criteria. An entire thatched wall was preserved, and areas in ruins that had old bricks covered in lime were restored." Bio-construction is a new frontier in environmental sustainability that makes use of materials and resources that are natural, renewable and free of radioactivity. It relies on a natural biophysical cycle and its applied technologies respond to biological and ecological needs.
This is a new, far-sighted mentality that responds to the requirements of a large number of travellers who prefer to stay home in the absence of eco-friendly accommodation. "I have been convinced of my own responsibility towards the planet that is hosting us and, not without sacrifice, I carried out the restoration of the farm compound with its three buildings that face the courtyard. It had been a place of work on the farm, but today is a pleasant lawn shaded by maples and dotted with vines. I respected the pre-existing layout and used lime-retardant materials, avoiding acrylics and cement wherever possible. Suddenly I thought of renewable energy sources, so I installed solar panels for hot water production and photovoltaic panels to produce electricity."
This eighteenth-century building responds to the criteria of harmony and functionality. "The bedrooms and a large breakfast room with an antique fireplace and crafted terracotta stoves are in the main house. Once again, we used natural materials: terracotta, stone and unpainted wood only biologically or water treated. The tobacco kiln, which was referred to as La Gotica in the valley for its arch-Gothic style, is still in its original condition and today is an ideal space for wellness and relaxation activities such as yoga. It offers optimal acoustics for music listening and meditation. The types of activities that lend themselves to this setting are yoga classes, overtone chanting, herbalism and any discipline that, in some way, takes us towards a better or healthier relationship with ourselves, and our natural and spiritual natures. Together with my guests, I intend on taking up this quest or simply sharing the enchantment of this place."
The "Corte degli Armonici" is in Montagnano, halfway between Castiglion Fiorentino and Monte San Savino. For more information on how to get there for a rejuvenating and eco-friendly stay, to organize an event, conference or yoga, or other, workshop, visit the website www.cortedegliarmonici.com , write to ludovicabenedetti@alice.it, or call 347 5876871.